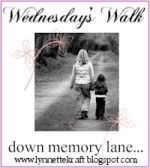 Today's memory is pretty simple. It's the moment I fell in love with Radnor Lake and Cheekwood Botanical Gardens, both close to where I live in Nashville.
I mentioned in my last post that there were 4 women from my church who were instrumental in my recovery. At their suggestion, I took a "personal retreat" for 3 days in June of 2005. I stayed at one of their houses so that I wouldn't have MY house to distract me, I stayed off my phone (SO hard) and off the internet. It was a time of drawing closer to God and learning more about myself.
On many levels I hated it, but it was exactly what I needed.
The first day I went to Radnor Lake. Honestly, I had lived here for 6 years at that point and I don't think I had ever visited before.
Now, it's important to remember that even though I was at a healthy weight I was NOT healthy. I was eating a very small amount of calories per day, and working most of those calories off. So I decided that this would be a great place to hike off the meager lunch I had eaten. I also chose the most strenuous path in the place--Garnier Ridge.
I shouldn't have. I wasn't in a good place physically and there was no one else on the path. Although I never got dangerously close to an edge, or blacked out walking (as I often did those days) the thought crossed my mind that I could pass out, hit my head on a rock, and it would take HOURS for someone to find me.
It was the first time I ever thought "I could die out here."
It was part of the turning point that my 4 friends and confidantes had prayed for. By realizing that I could die out there it finally hit home that my addiction could actually kill me. I, of course, knew that. In my head. But that was the first time my
heart
realized the truth.
Before the hike up the Ridge
I'm thrilled to report that I've returned to Radnor many times since that first visit. And I can now confidently hike the ridge without that awful feeling. Recovery has been amazing!

I'm not going to write a whole lot about Cheekwood, except to say that the day I went was a heat advisory day. No one was supposed to be out if they could help it. Which was actually kind of nice. First of all, I was always cold, so it felt great to me! Secondly, I got to enjoy the solace of my favorite spot of Cheekwood by myself. The Japanese water garden...is amazing.


A view of the garden--it was built to be enjoyed from the viewing pavilion, so I made sure to take pictures from that vantage point